Experience therapy that's completely digital
No worry about scheduling and appointments
Available whenever and wherever you are
On any web-enabled device you prefer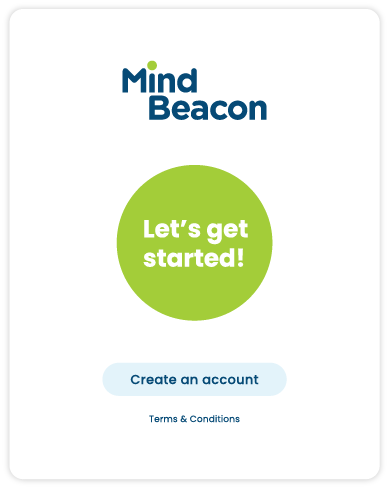 Create an account and get started right away.
Tell us about yourself, your feelings and your situation, so your therapist can understand you better.
After you create and verify your secure account, you'll start your first session – a full MindBeacon Assessment.
We've re-created what in some cases can be a 60- to-90-minute in-person interview, in an online assessment that takes about 30 minutes and can be completed on your own time, anywhere.
We suggest setting aside a time in which you won't be interrupted to complete this important first step in your journey.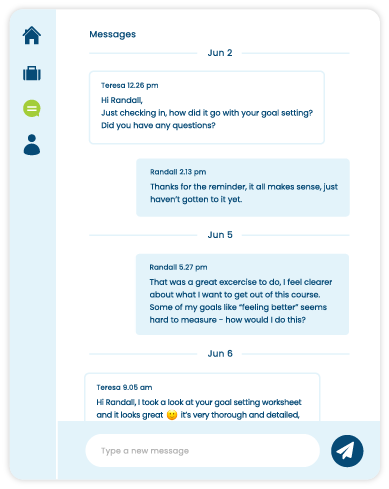 Your therapist creates a plan designed just for you.
Through secure direct messages, readings and activities, your therapist will help you develop the skills you need to thrive.
A therapist will take the time to personally review your assessment. (This can take 3 to 5 business days, depending on volumes.)
If our program is a good fit for your unique needs, you will be matched with the therapist best suited to create your personalized treatment plan.
The therapy program we offer may include psychotherapy services. Our therapists are mental health professionals who are properly trained and licensed to provide these services. They meet the professional and legal requirements specific to the jurisdiction of the province in which they operate.
If our program is not appropriate, they will suggest other resources for you to contact.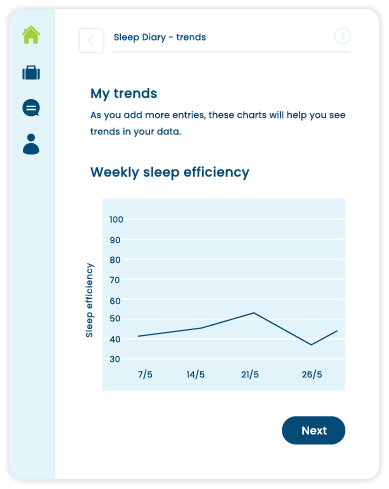 Complete your personalized program in 6 to 12 weeks.
Work one-on-one with your dedicated therapist for up to 12 weeks and access your resources for up to 1 year.
Our program offers 12 weeks of guided treatment with a therapist. Most people complete their course of treatment in 6 to 10 weeks.
Your therapist will respond to your messages and check in with you every few days.
Once you reach 12 weeks of treatment, you will still be able to access your materials (readings, worksheets and more) for an additional 40 weeks.
What's a Therapist Guided Program?
MindBeacon's Therapist Guided Program is based in Cognitive Behavioural Therapy (CBT).
With more than 40 years of research and practice, CBT is an excellent long-term solution for those suffering from mood and anxiety disorders.
It's a skills-building approach to therapy, helping you develop resiliency and coping skills to better manage your mental health concerns. It consists of readings, exercises and activities that will help you learn and practice those new skills.
MindBeacon's Therapist Guided Program is designed for adults 16+, and can help with many mental health concerns.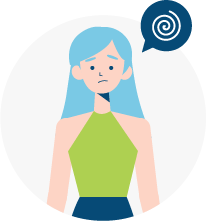 Your Mental & Behavioural Health
Evidence-based psychotherapy with MindBeacon, including Cognitive Behavioural Therapy, can help with mild to severe problems tied to a diverse range of concerns.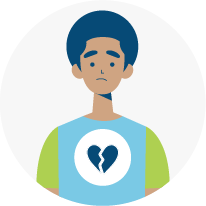 Challenging Life Events
Cognitive Behavioural Therapy (CBT) techniques are very well-suited to help people understand problems in relationships or deal with complex emotions associated with grief.
Relationship Difficulties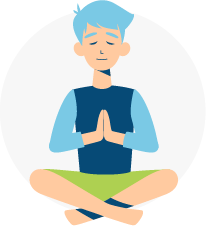 Your Mind-Body Connection
Many health concerns have both deep emotional impact and physical health impact. Our therapists use behavioural therapy techniques to help you overcome issues prevent you from living your best life.
Coping with Chronic Health Conditions
Your health and safety comes first.
Which is why, in some cases, MindBeacon's Therapist Guided Program might not be the best fit. In these cases, we suggest scheduling a Live Therapy Session, or we can offer other support.
Is MindBeacon's Therapist Guided Program right for you?
Our Therapist Guided Program is proven effective in treating a lot of conditions
If you're experiencing:
Social anxiety
Panic
Stress management
Depression
Insomnia
Chronic pain
Generalized or health anxiety
Adjustment or stress-related problems
Post-traumatic stress (PTSD)
Then there's a good chance that our program may be able to help.
There are some conditions that our Therapist Guided Program is NOT a great fit for.
If you're experiencing:
Alcohol or substance use that interferes with daily activities (like our program)
Serious thoughts of suicide or self-harm
Eating issues that affect your physical wellbeing
Relationship issues that require couples support
Issues tied to bipolar concerns
OCD concerns
Then there's a chance that our program isn't best matched to your needs right now.
Our Therapist Guided Program is currently available in:
> English
> French
If you currently are not comfortable with reading or writing in these languages, the program may not be right for you.
Our Therapist Guided Program is fully digital. So you need to be:
> Comfortable with technology
> Have the ability to type either on a keyboard or smart phone
If you currently have a physical limitation that doesn't allow this, the program may not be right for you.
What people are saying about MindBeacon
*Due to confidentiality we don't share MindBeacon User identities
Questions?
Why do we call it a 'program'? Good question.
Mainly because it has a start and end date. A typical MindBeacon Therapist Guided Program lasts about 8 to 12 weeks - so you know what you're committing to.
During the entire 12 week program, you will have one-on-one access to a therapist, but instead of making appointments to talk to them, you'll be sending them direct messages through the secure platform, and they'll get back to you in a few days.
We also use the term program because your therapist will guide you through readings and activities that you complete on your own. Think about them as your personal curator of mental health resources, best suited to your needs.
MindBeacon's Therapist Guided Programs are available to all Canadians, age 16 years or older.
MindBeacon can help you tackle a wide range of issues, including depression, anxiety, panic, PTSD, stress and many other concerns that impact your wellbeing.
But MindBeacon IS NOT a crisis service. If you're ever in crisis, please phone '911' immediately or visit your nearest hospital emergency room. Your safety is absolutely the most important thing to us.
Everyone has a personal preference when it comes to therapy.

When choosing between Live Therapy and a Therapist Guided Program consider how comfortable you might be discussing your concerns face-to-face, or how much flexibility you have in your schedule.

If you prefer to work on your own time, wherever and whenever it's convenient, a Therapist Guided Program might be the best. Your therapist will be available to you via messaging, but you'll have no set appointments to keep.

If you like the guarantee of an appointment in your calendar, then Live Therapy might be better. Live Therapy is also great if you want to talk to someone and like a face-to-face connection, even though you're remote.
Yes – you get your own licensed therapist for 12 weeks, who will be dedicated to you throughout your care, and who will tailor your program from start to finish.
And you can send them a message at any time - whenever you have a thought or an issue you'd like to discuss. There's no need to "save up" all your thoughts for a monthly or weekly session, or worry about forgetting about what it was you wanted to talk about.
Your therapist will get back to you within 2 business days.
For sure, when you're on MindBeacon there are things for you to read and tasks for you to complete on your own.
MindBeacon helps you build the skills you need to address the issues you're facing - and the only way you build skills is through practice.
But you're not doing it alone. You have the help of a dedicated licensed therapist for 12 weeks, who will create a treatment path that's unique to you and your specific needs. You can send them a message any time you have questions or want guidance.
So, sure. There is a ton of mental health content out there. But we think there is value in having a dedicated professional guide to help you on your specific journey.