It's time for you.
Get the mental health support you need, on your terms.
It's time for you.
Get the mental health support you need, on your terms.
It's time for you.
Get the mental health support you need, on your terms.
No matter how you are feeling
No matter how you like to communicate
No matter how much time you have
We're here to guide you along the way
Explore options that are best suited to fit your needs.
Trusted. Proven.
Approved.
150+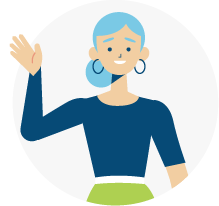 Canadians start our therapy every day
92%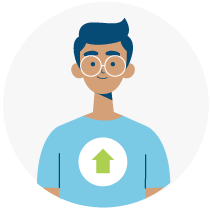 Learned new skills that helped them feel better
89%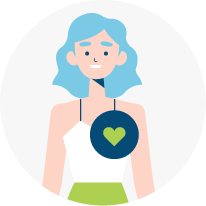 Happy with their therapist's support
Our MindBeacon Community
MindBeacon works with employers, benefits providers, healthcare, and government to provide mental health services that are accessible, affordable and proven to be effective.
What people are saying about MindBeacon
*Due to confidentiality we don't share MindBeacon client identities
Seeking help can be hard. Let us make the rest easier.
MindBeacon is the only provider that offers Canadians the full spectrum of digital mental health support, including face-to-face live therapy, therapist-guided programs, immediate crisis support and free resources from the Stronger Minds community.

Everyone has different needs. So, there's no one solution that fits everyone. You choose what works for you.
We get it. Finding an hour in your day to talk about yourself can feel like a massive commitment.
That's why we have options like our Therapist Guided Program which provides access to support whenever it's most convenient to you.
You can direct message your therapist while waiting for your pasta to boil, or review readings while waiting for your kid's soccer practice to end. It's therapy built around your availability.
But, yes, therapy will take some of your time. There is no getting around that. But this is about you feeling better - about being more resilient and getting more out of your life.
You deserve to live your best life. Invest in yourself.
From the very start, MindBeacon's mission has been to break down barriers to mental health support and price was one of the first we tackled.
Our Therapist Guided Program gives you one-on-one access to a therapist for 12 weeks for only $500 - and you can choose to pay in installments if that's more convenient. Through a detailed online assessment, readings and activities you complete on your own, and a secure direct message platform, we can offer the same results as face-to-face therapy at a fraction of the cost.
Our Live Therapy sessions start at $130/60 minutes. They may be a bit more expensive than other online options, but that's because we have highly trained, certified therapists.
No matter which option you choose, we always save you the costs of taking time off work, driving to appointments and all the associated expenses.
Many people feel like their mental health isn't "bad enough" to seek out therapy.
That's not what this is about. You don't have to hit a some predetermined "level of sickness" before you reach out. This is about gaining the skills and resiliency you need to face the challenges life throws at you.
While the stigma around mental health support has lessened, there's still is a lot of misunderstanding about what therapy is.
Thousands of Canadians trust MindBeacon to help them tackle a variety of issues every day, so you'd be in good company. We want to see everyone get healthier, happier and more resilient.
And, if security is a concern, know that our practices are compliant with PHIPA, PIPEDA, FIPPA and the health custodian regulations set out by the College of Psychologists of Ontario. We are also certified compliant with HIPAA, the US standard governing protection of sensitive patient data.
It's true that therapy means taking a closer look at your thoughts, feelings and behaviours - and seeing how they are all connected.
But MindBeacon is both a present- and a skills-focused treatment. The goal is not to dwell on problems but rather to understand the cycles that maintain them, or get in the way of you doing the things you want to do in life.
The goal is to learn skills and strategies to help you work through your problems or break those negative cycles.
A lot of the time, avoidance tends to make problems worse. By approaching those issues with a trained expert, you can start to understand what's keeping them going and where you can make changes to lessen their impact.