MindBeacon, one of Canada's leading providers of Therapist-Assisted iCBT, releases their 2021 Top 5 Mental Health Insights based on the treatment of thousands of clients across the country this year.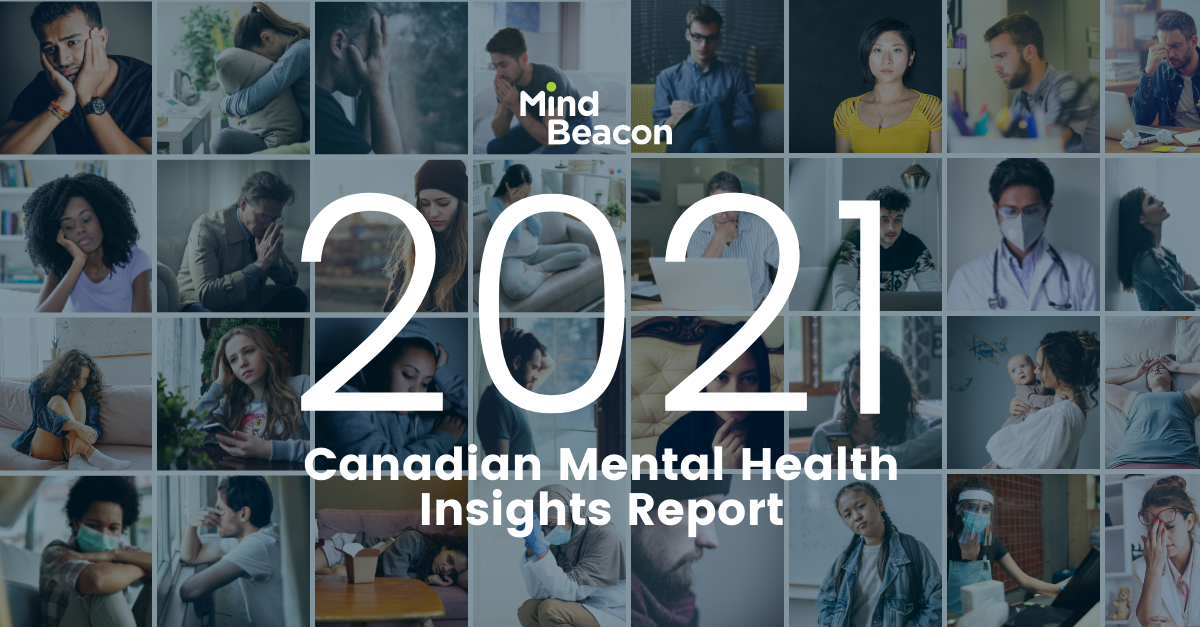 MindBeacon's Therapist-Assisted iCBT (Guided CBT Program) treated over 36,000 Canadians in 2021. Because iCBT is delivered digitally, MindBeacon has some of the richest mental health data in the country. At the end of every year, MindBeacon's team of data scientists analyze the data and share high level insights on the state of mental health care in Canada.
What is MindBeacon's Therapist Assisted iCBT?
Cognitive Behavioral Therapy (CBT) is one of the most effective forms of mental health therapy. With MindBeacon, clients experience CBT digitally (iCBT) at their own pace and on their own schedule, with a dedicated licensed therapist guiding them throughout. MindBeacon's Guided CBT program content includes readings and exercises that have all been developed by clinical experts to help clients develop the skills they need to thrive.
MindBeacon offers one of the most comprehensive programs of digital Therapist-Assisted Guided iCBT treatment in Canada. From Stress to Sleep Troubles, Anxiety to Alcohol Use, Panic to PTSD, its TAiCBT can treat a vast number of mental health challenges. As many of these concerns are related, the clients' journey throughout the program is continually customized by their dedicated therapist and each client receives a unique treatment plan suited to their needs.
Insight 1: We have treated 4X as many people with severe symptoms this year over last and more than 80% of our clients have clinically severe symptoms.
During intake process for MindBeacon's Guided CBT Programs, clients complete a detailed online assessment which measures the severity of their symptoms and screens for specific mental health conditions based on their answers.
In the Fall of 2020, MindBeacon was seeing approximately 1 in 5 people screening positive for Anxiety or Depression, and by Spring of 2021, that number had increased to 1 in 4 people.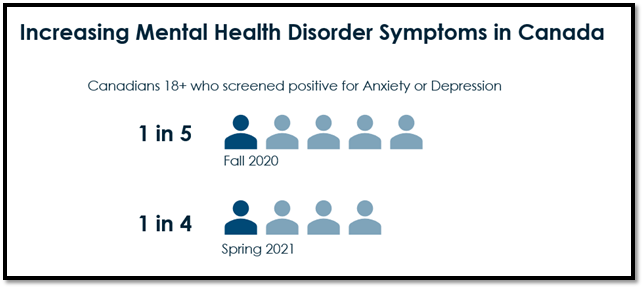 MindBeacon has also seen a drastic increase in the number of people reaching out for help with severe mental health symptoms. Comparatively, when looking at the number of people with clinical symptoms* in the Fall of 2020 vs 2021, that number has increased 4x.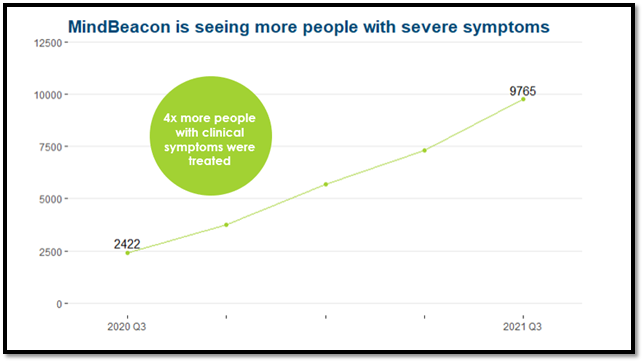 What is a clinical symptom? Someone is considered to have clinical symptoms when their symptom score on their primary outcome measure (OM) exceeds the accepted clinical threshold for their relevant measure. Also known as "caseness" under the IAPT framework, it allows for analyses across disorders which use different OM scales to measure symptom severity.
Insight 2 – Top mental health concerns in 2021 that have been treated by MindBeacon's Guided CBT program include Generalized Anxiety Disorder, Depression and Stress.
MindBeacon's Therapist-Assisted iCBT Program treats the most comprehensive set of mental health concerns out of any digitally delivered therapy treatment. In 2021, MindBeacon added new programs focused on Managing Alcohol Use, Social Anxiety, and Coping with Chronic Conditions which have already started to support many Canadians. However, the majority of those treated by MindBeacon in 2021 have received therapy for Generalized Anxiety Disorder (36%), Depression (30%) and Stress (13%).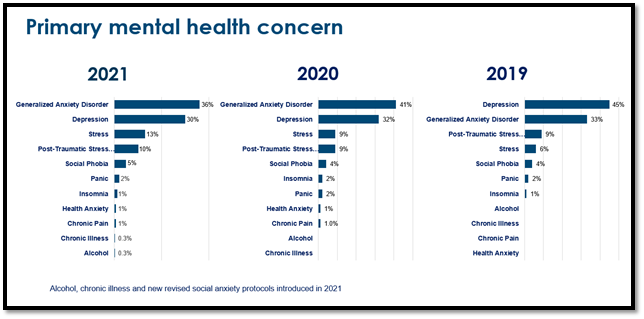 Insight 3 – MindBeacon's digital Therapist Assisted iCBT program gets Canadians into treatment 5X faster than traditional community mental health care.
Two out of three Canadians don't get help for their mental health concerns and one of the biggest barriers contributing to this statistic is the long waiting lists which can discourage people and lead to them to abandon the process. MindBeacon clients start treatment with a dedicated therapist within 5 days on average. Compared to the 25-day average wait for community care, this means that MindBeacon is able to get support to Canadians faster which keeps the momentum going and encourages them to continue on their treatment plan.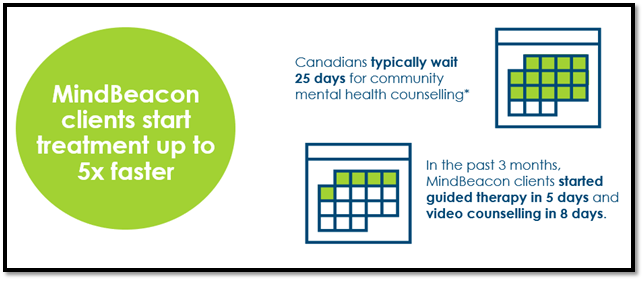 * Canadian Institute for Health Information. Common Challenges, Shared Priorities: Measuring Access to Home and Community Care and to Mental Health and Substance Use Services in Canada — Volume 3, May 2021. Ottawa, ON: CIHI; 2021. (link)
Insight 4 – MindBeacon's digital Therapist Guided iCBT program delivers better mental health care equity by supporting Canadians and delivering positive outcomes across all ethnicities, genders, employment status and locations.
The pandemic has amplified conversations about health equity. Achieving health equity requires reducing unnecessary and avoidable differences that are unfair and unjust. Many causes of health inequities relate to social and environmental factors including: income, social status, race, gender, education and physical environment.
There has also been a misperception that technology is not accessible for underserved populations. However, nearly 89% of Canadians have access to the internet on a mobile-device as smartphone ownership is at an all-time high, even among those with few socioeconomic resources. That number jumps to 96% when looking at Canadians who have access to the internet, when we include public access to technology and wi-fi. This makes digitally supported healthcare a very viable option for all populations.
Add in the fact that MindBeacon therapy can be accessed from the privacy of a home setting and without having to schedule an appointment This means that those who worry about stigma and being seen at a public clinic, or those who work in shifts or have unpredictable schedules can be supported without having to take time off.
Reliable clinical symptom change is a reduction in pre- to post-treatment symptom scores as defined in the IAPT framework and the change threshold exceeds the measurement error of each outcome measure. The amount of reduction differs for each OM scale, but it essentially is what is considered to be meaningful change.
If we look at all Canadians treated by MindBeacon's Guided CBT Program in 2021, regardless of their age, ethnicity or gender, there is no difference in the % of users experiencing reliable change.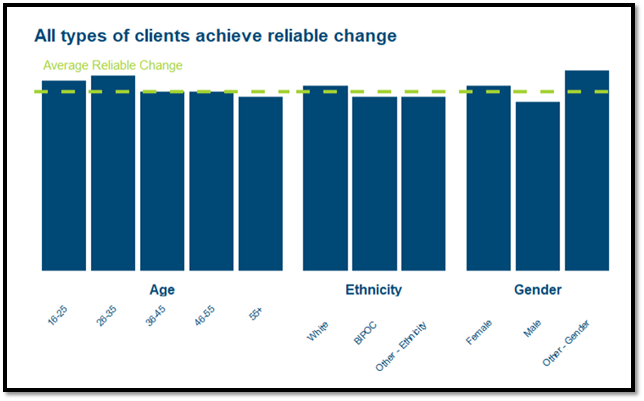 Since mental health care is, in most cases, not covered by government healthcare, the burden of cost has usually been covered by employers offering mental health as part of their benefits package to full-time employees. This has left those unemployed, working part-time or students without access to covered mental health care, which then makes cost a significant barrier to accessing critical treatment.
MindBeacon's Guided CBT Programs are substantially more affordable than traditional face-to-face therapy programs. With a 12-week iCBT program including unlimited access to a therapist via secure direct messaging costing $525, it is much more affordable than traditional therapy which can cost between $150 - $200+ per session and thousands over the course of a treatment plan. This reduced cost for Canadians, combined with government funding which has covered the cost of the program for every Ontario resident, has helped to improve access to those who aren't employed full-time. MindBeacon data shows that over half of those treated by our Guided CBT Programs are not full-time workers and therefore, most likely do not have benefits to cover mental health supports.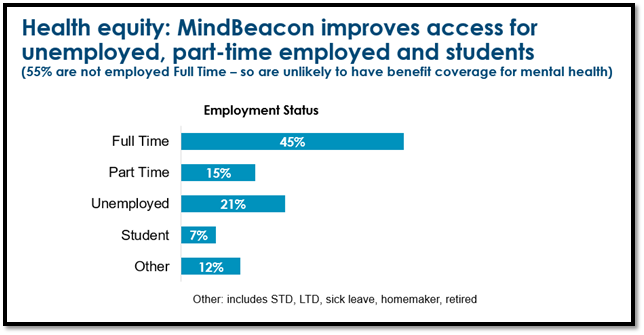 Insight 5 – MindBeacon's digital Therapist Guided iCBT program delivers clients mental health support when its most convenient for them.
Other than affordability, one of the other barriers to accessing care for those who need mental health support is accessibility. It can be difficult for those working in shifts, busy parents or those with unpredictable schedules to make and keep scheduled appointments.
Carving out one hour for a therapy session can feel like a luxury that many can't afford. With MindBeacon's Guided CBT program, there are no appointments and clients can complete therapy whenever it's most convenient for them. This can be as simple as reading an article while commuting home on the bus or sending a message to their therapist when a thought crosses their mind while waiting in line at the grocery store. MindBeacon's data supports this as 86% of clients access content outside of typical office hours and 54% clients complete their assessment outside of office hours.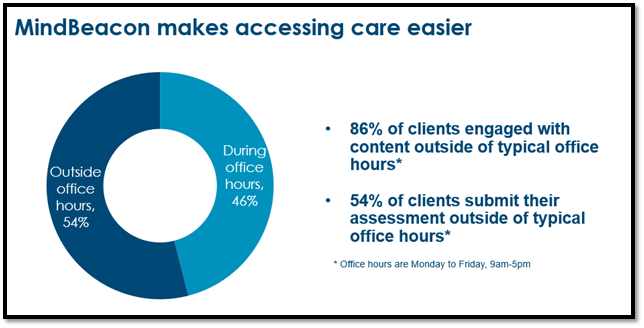 So, what does this all mean? With 2021 coming to a close in a couple of weeks, Canada continues to be faced with the uncertainty of how new variants are going to affect our lives. Amid uncertainty comes higher levels of stress, anxiety and depression. While many thought we would be recovering from the pandemic and getting back to "normal" by now, the contrary takes place. MindBeacon stays committed to supporting Canadians throughout 2022 and beyond with a variety of mental health services that are always available, accessible and affordable. Even when the pandemic is no longer a pressing concern, mental health care will be needed and for those in need, there's MindBeacon.