Press Release | MindBeacon launches free mental health resource to help all Canadians cope with the effects of the pandemic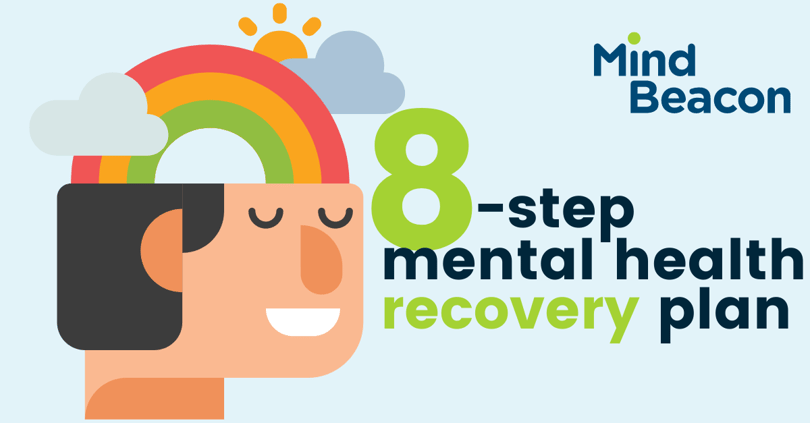 TORONTO, ON – May 5, 2021 - MindBeacon (TSX: MBCN), leading provider of digital mental and behavioural health therapy, today unveiled its 8-Step Pandemic Mental Health Recovery Plan, a comprehensive, self-care resource created by MindBeacon's mental health professionals and available free of charge to all Canadians. Launching to coincide with Mental Health Week, the 8-Step Pandemic Mental Health Recovery Plan is designed to help anyone struggling to cope amidst the pandemic. Isolation, uncertainty and various forms of loss have caused Canadians to experience a variety of emotions, including, grief, anxiety, stress, anger, frustration and more. With recovery on the horizon, some Canadians will face additional mental health challenges including increased or new social anxiety due to time spent in isolation, coping with possible increased alcohol use, and healing from symptoms of post-traumatic stress and grief from experiencing severe illness, treating and caregiving for others and also losing loved ones.
As the third wave of the pandemic continues to weigh heavily, more than ever, Canadians are finding it difficult to manage new stressors and negative emotions. Recent Google search trends indicate an increase in Canadians searching for help for anxiety and depression. Every single day more than 100 people start therapy with MindBeacon, demonstrating the need for effective mental health therapy. A recent survey found that 56 per cent of Canadians are feeling increased stress or anxiety as a result of COVID-19, a trend that underscores the importance of providing easily accessible mental health support to anyone who needs it.
The new 8-Step Pandemic Mental Health Recovery Plan includes resources developed by MindBeacon's mental health professionals, giving users the tools they need to help understand what impact the pandemic has had - and continues to have - on their well-being, and how to get their mental health back on track. It can be accessed for free at www.mindbeacon.com/recovery in English and here in French.
"Like any physical injury, the mental health traumas Canadians have faced since the onset of the pandemic will take time to heal," said Dr. Khush Amaria, PhD, CPsych, Senior Clinical Director at MindBeacon and advocate of Cognitive Behavioural Therapy (CBT). "We want to make it easy for anyone who is struggling with negative thoughts and emotions during this time to get the help they need, and also remind Canadians that taking care of their mental health is a lifelong journey. It takes time and consistent effort to heal and recover from any trauma."
The new resource includes video messages from therapists, articles with advice from mental health professionals and other helpful tips as well as suggested activities that can be incorporated into daily life, guided by the following eight steps:
Aligning your compass - understanding how to re-think planning by setting goals and using a flexible approach to achieve them
Accepting loss - learning how to cope with grief in a healthy way rather than escaping it
How to educate yourself - understanding how to identify warning signs of stress and anxiety and when to seek help
Ways to prioritize self-care - learning how to take care of yourself (without guilt) to help you better cope with everyday stressors
The process of re-discovery - taking time to re-discover who you want to be by evaluating personal values
Taking action – learning what actionable steps are needed to progress through the journey towards recovery
Seeking peer support - learning how to accept support from peers, alongside mental health professionals
Committing to long-term maintenance - understanding the work that's required to maintain a healthy mind
As part of Mental Health Week and to help Canadians learn more about the 8-Step Pandemic Mental Health Recovery Plan, MindBeacon is hosting a free 30-minute online event on Wednesday, May 5 from 12:00 to 12:30 pm ET with Clinical Psychologist and Senior Clinical Director, Dr. Khush Amaria. More details can be found here. For those interested in joining the French webinar, they can register here to join from 1:00 to 1:30 pm ET on May 5.
MindBeacon offers Canadians a full spectrum of digital mental health support, and the 8-Step Pandemic Mental Health Recovery Plan is the latest addition in MindBeacon's continuum of care, adding to its commitment to helping Canadians access proven and effective mental health treatments. In January, MindBeacon also launched its Live Therapy offering, which makes it easy for Canadians to book time with a therapist suited to their needs from the comfort of their own home.
About MindBeacon
MindBeacon provides a continuum of mental healthcare that includes self-guided psychoeducational and wellness content, Peer-to-Peer Support, Direct Messaging Therapy, Therapist Guided Programs and Live Therapy Sessions all offered virtually through their secure and private platform. As one of the first commercially available, digitally-native platforms to offer therapist-assisted internet-based Cognitive Behavioural Therapy in Canada, MindBeacon's professional service is designed around end users – their health, their way. Working with employers, insurance carriers and government ministries, MindBeacon's services are accessible, available, affordable and, most importantly, proven to be effective. MindBeacon is changing the therapy landscape by making professional care available to every Canadian, no matter when, where and how they choose to access it.
SOURCE MindBeacon Holdings Inc.
For further information:
(e): media@mindbeacon.com