Press Release | MindBeacon launches new Guided CBT Program to support the mental health of patients with Chronic Conditions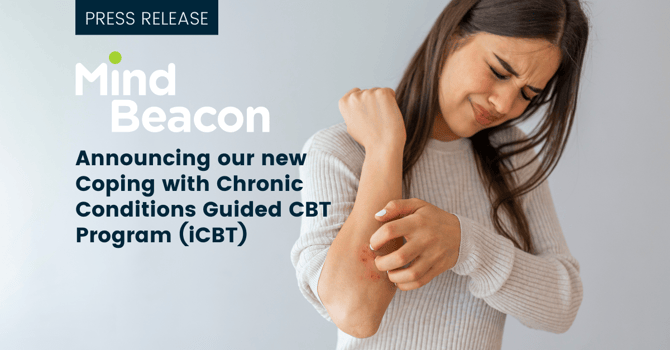 TORONTO, ON November 23, 2021 - MindBeacon Holdings Inc. ("MindBeacon" or the "Company") (TSX: MBCN), a company specializing in the delivery of a comprehensive continuum of mental healthcare, using digital technologies, announced the launch of its Coping with Chronic Conditions Guided CBT Program which further expands the company's extensive suite of available Internet-Based Cognitive Behavioural Therapy ("iCBT") programs.
"Chronic conditions are illnesses that are prolonged in duration, do not resolve spontaneously, and are rarely cured completely. People with chronic conditions usually experience a myriad of intense and long-lasting feelings - everything from exhaustion and fear, to guilt and frustration," said Dr. Lori Ann Blessing, Chief Clinical Officer at MindBeacon. "It is often difficult to cope with the changes happening in your life and manage the ongoing treatment that accompanies the condition".
Almost all these conditions include treatment from specialty pharmaceuticals. Pharmaceutical Patient Support Programs ("PSPs") help patients navigate life with the condition and provide support during the course of their treatment. An emerging trend is adding mental health support to PSPs, as attending to the mental well-being of a patient is critical to the success of the physical treatment.
Many of MindBeacon's existing Guided CBT Programs already support patients who may be struggling with concerns such as depression, anxiety and stress – concerns that commonly arise for patients receiving pharmaceutical support for medical conditions. However, with MindBeacon's new Coping with Chronic Conditions program, we are able to offer support that is specifically designed to help those with these conditions. With this new program addition, MindBeacon has a robust suite of offerings to help pharmaceutical companies fully integrate mental health into their PSPs in a cost-efficient way. Because MindBeacon is delivered digitally, when a pharmaceutical company works with MindBeacon, they also get the comprehensive outcome reporting and data that very few mental health providers are able to provide.
Last month, on World Psoriasis Day, leading research-driven biopharmaceutical company Boehringer Ingelheim (Canada) Ltd., announced a partnership with MindBeacon to provide those living with Generalized Pustular Psoriasis (GPP) access to MindBeacon's Guided CBT Program. A 2016 systematic review in the Journal of Clinical and Aesthetic Dermatology looked at 57 studies on the subject of psoriasis and mental health, noting that psychological stress and depression can boost the release of pro-inflammatory cytokines, which are molecules released as part of the immune response. The inflammation they cause seems capable of further exacerbating the symptoms of both psoriasis and conditions like depression.1
"Depression is one of the most common complications of chronic illness. It's estimated that up to one-third of individuals with a serious medical condition have symptoms of depression. Depression caused by chronic illness can aggravate the illness, causing a vicious cycle to develop." said Dan Clark, CEO of MindBeacon. "We believe incorporating MindBeacon into the patient journey and treating depression and chronic illness together can better support the patient holistically and lead to better overall health outcomes."
Individuals with chronic health conditions are at higher risk of developing a mental health condition and taking a collaborative or holistic approach to care, including both mental and physical health care, can improve overall health outcomes.
About MindBeacon
MindBeacon provides a continuum of mental healthcare that includes self-guided psychoeducational and wellness content, Peer-to-Peer Support, Therapist Guided Programs and Live Therapy Sessions all offered virtually through its secure and private platform. As one of the first commercially available, digitally-native platforms to offer therapist-assisted internet-based Cognitive Behavioural Therapy in Canada, MindBeacon's professional service is designed around end users – their health, their way. Working with employers, insurance carriers and government ministries, MindBeacon offers services that are accessible, available, affordable and, most importantly, proven to be effective. MindBeacon is changing the therapy landscape by making professional care available to every person, no matter when, where and how they choose to access it.
SOURCE MindBeacon Holdings Inc.