Feeling more in control. Better mood. More energy.
Changing your relationship with alcohol doesn't just mean cutting back. It can also mean changing what, when, why, and how you drink, in a way that benefits you. It can have positive effects on the way you feel – both mentally and physically.
Research

shows that

cutting down or cutting out alcohol

can lead to positive effect

s

like: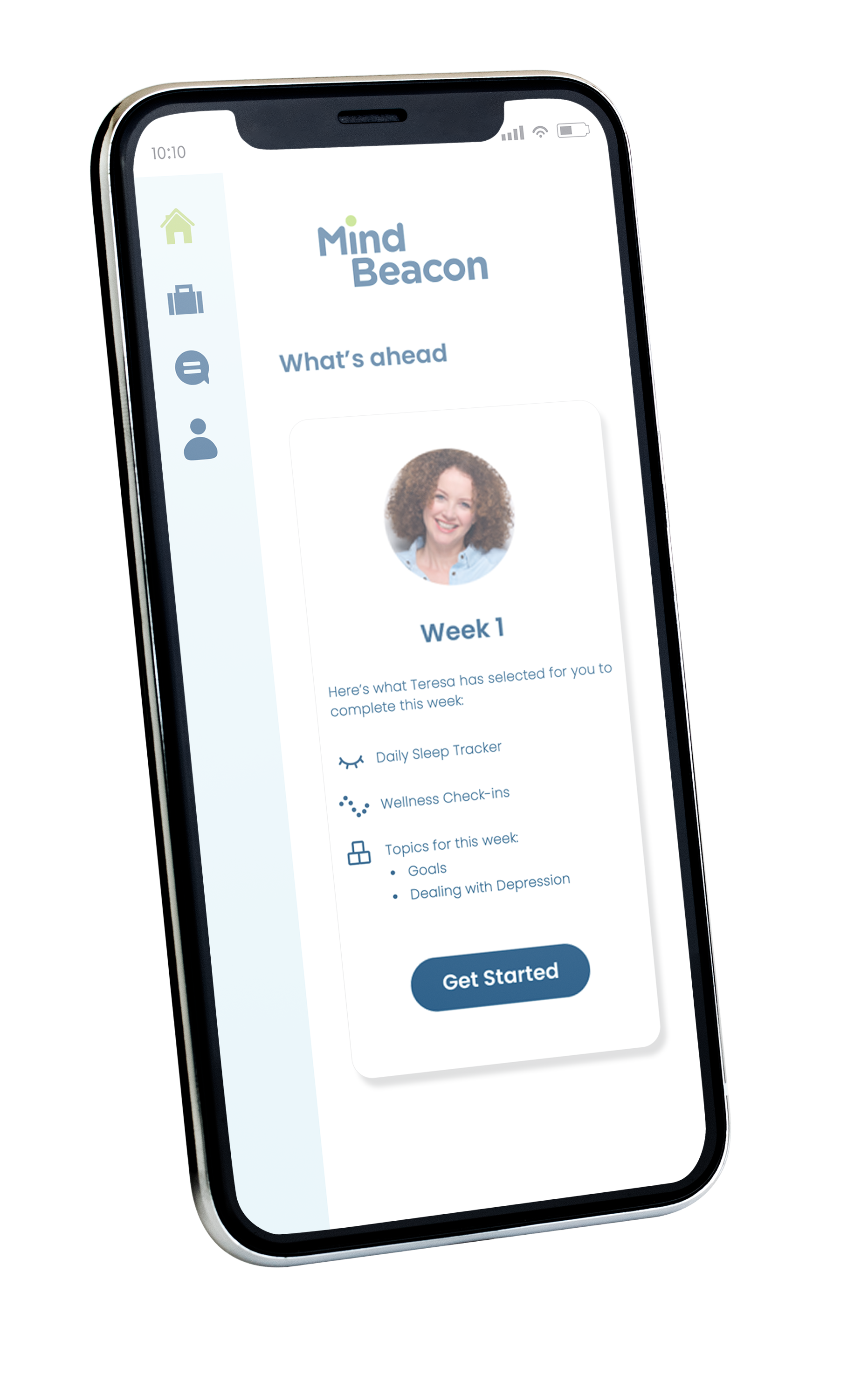 • Better Mood
• Deeper sleep
• More energy
• Better concentration
• Better long-term physical health
Developed in consultation with experts at The Centre for Addiction and Mental Health (CAMH),  MindBeacon

'

s Managing Alcohol Use Program uses the principles of cognitive behavioural therapy (CBT) and a harm reduction approach to manage alcohol consumption and develop strategies to cope with cravings.
Is a Guided CBT Program the right therapy for me?
Participate when and where it suits you
Improve your resiliency by learning new skills
Rigorous clinical trials prove CBT's effectiveness
Do you want to take an active role in your therapy? Do you enjoy doing "homework" – things like readings and exercises that help you learn skills to improve your resilience and how you cope? If so, then CBT may be a great fit for you.
Cognitive Behavioural Therapy (CBT) is a time-limited, problem-focused, and goal-oriented form of therapy. It focuses on how the way we think about things affects our feelings and behaviours. CBT helps you learn how to change negative cycles of thoughts and behaviours so you can function better and improve the quality of your life. Rigorous clinical trials have proven CBT's effectiveness over a number of decades.
And our Guided CBT program is delivered 100% online – through your laptop, phone or tablet. So you can participate when and where you want. There are no appointments to keep – our Guided CBT Program works on your schedule!
What people are saying about MindBeacon
Our clients rated our Live Session therapists 4.8/5
Due to confidentiality we don't share MindBeacon client identities
Benefits Coverage?

Benefits Coverage?

Price*

Price*

$50 one-time assessment
2 payments of $150, and a final payment of $175 for the Program
Includes unlimited messaging

Suggested Frequency

Suggested Frequency

Most people complete the program within 6-8 weeks and many continue messaging with their therapist for up to 12 weeks.
Cancel at any time?*

Cancel at any time?*

Eligibility

Eligibility

Our Guided CBT Programs are proven effective in treating many conditions.

If you're experiencing any of the following, there's a good chance our Guided Programs may be able to help:

Chronic pain
Depression
Generalized anxiety
Health anxiety
Insomnia and other sleep issues
Managing alcohol use
Panic
Post Traumatic Stress (PTSD)
Social anxiety
Stress management

Guided Programs are available to those 16 years of age or older

However, Guided Programs are NOT for everyone

If you're experiencing any of the following, then Guided Programs are likely not right for you. Our Live Sessions are likely a better option for you.

Alcohol or substance use that in interferes with daily activities
Serious thoughts of suicide or self-harm
Eating issues that affect your physical well-being
Relationship issues that require couples support
Issues tied to bipolar concerns
OCD concerns

Our programs are provided in English and French

You will need to be comfortable with technology and have the ability to type on either a keyboard or smart phone.
What Questions do you have?
While consuming alcohol is never particularly "safe", governments establish guidelines around "safe drinking." These guidelines refer to levels of consumption that minimize risks to your long-term health and other alcohol-related harms.
According to Canada's Low-Risk Alcohol Drinking Guidelines:
Women should limit alcohol to no more than 10 drinks per week, with no more than 2 drinks a day most days

Men should limit alcohol to no more than 15 drinks per week, with no more than 3 drinks a day most days
Alcohol is sometimes consumed as a coping mechanism for stress, anxiety, or depression. While it may provide a sense of relief in the short term, it can negatively affect your mental health in the long run. Increased alcohol consumption leads to greater tolerance, which means that over time it takes more alcohol to achieve the same effect. And alcohol is a depressant, which means that increased use tends to make anxiety and depression worse over time. 
This program is for individuals looking to change their relationship with alcohol. This includes individuals who regularly consume alcohol above the amounts recommended by Canada's Low-Risk Alcohol Drinking Guidelines. This program is not for individuals for whom alcohol use interferes with daily activities or who have a physical dependence on alcohol, which would require the support of a physician or other medical expert.
You get your own therapist, who will be dedicated to you throughout your care, and who will tailor your program from start to finish. MindBeacon therapists are registered mental health professionals who are experienced in providing CBT treatment online. 
Your therapist will tailor a course of therapy based on your unique needs, selecting readings and activities that will help you develop new skills. As you work through the activities, your therapist will review your progress, provide encouragement and advice, as well as new perspectives to consider. You interact with your therapist via secure messaging through the MindBeacon digital therapy platform, and they will always respond within two business days. 
Changing your relationship with alcohol can take time and hard work. For many, particularly during the first year of reducing alcohol consumption, challenges can arise that lead to a lapse (temporary setback) or a relapse (full return to previous drinking patterns). In either case, it is important to recognize triggers, cope with the emotional impact, and plan to get back on track. The skills taught in MindBeacon's Managing Alcohol Use program can be used in cases of lapses and relapse.