Press Release | MindBeacon clinicians to unpack new mental health solutions at Canada's largest family medicine conference - Family Medicine Forum (FMF)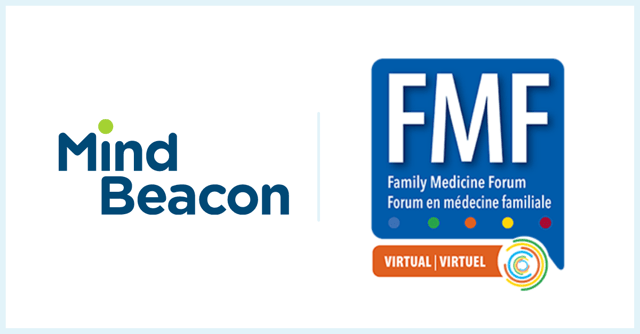 Toronto, November 9, 2020 – MindBeacon clinicians will be amongst the line-up of speakers at the Family Medicine Forum (FMF) taking place from November 10th to 13th. The FMF is an important agenda-setting platform hosted by The College of Family Physicians of Canada (CFPC) to advance new thinking and evidence-based approaches to tackle the pressing challenges facing family physicians.

Demand for mental health in Canada is significant and rising. A recent survey by the College of Family Physicians of Canada showed that 87 percent of family doctors are "highly concerned" about their patients' mental health. Covid-19 has exacerbated supply and demand issues. It also demonstrated how innovation and effective use of digital solutions can drive clinical innovation and expand access to care.

Rooted in evidence-based best practice, MindBeacon is a leading provider of mental health solutions in Canada and the US. The company is advancing the current paradigms of behavioral health by applying technology to radically improve the way mental health conditions are assessed, triaged, and treated.

Dr. Lori Ann Blessing, MindBeacon's Chief Clinical Officer, along with colleagues Dr. Leorra Newman, Clinical Content Lead, and Clinical Research Lead, Dr. Matt Balcarras will share data to show how iCBT can help to close the mental healthcare gap in accessibility, availability, and affordability. As one of the first providers of digitally enabled Cognitive Behavioural Therapy (iCBT) in Canada, the team will be discussing how MindBeacon has been able to reach and successfully treat difficult-to- reach populations during a time of unprecedented demand.

"There has never been a more important time to discuss mental health and opening up access to scalable, high-quality solutions. We must ensure that those who have felt the impact of the pandemic most acutely, receive high-quality support and that no one is left behind." said Dr. Lori Ann Blessing "We are delighted to have the opportunity to showcase how MindBeacon can make a difference in the lives of millions of primary care patients at the Family Medicine Forum."

The 30-minute panel session will cover:
What is iCBT? Who is it best suited to? What conditions can it treat?
The data and clinical outcomes from over 41,000 patients treated by MindBeacon iCBT over the course of the pandemic
MindBeacon's full continuum of mental health care including virtual sessions and mental wellness resources
How family doctors can easily refer patients and take advantage of mental health resources and content for your clinic
About MindBeacon
MindBeacon provides a continuum of mental healthcare that includes self-guided psychoeducational and wellness content, Peer-to-Peer Support, Direct Messaging, Guided CBT Programs and Live Therapy Sessions, all offered virtually through their secure and private platform as one of the first commercially available, digitally-native platforms to offer therapist-assisted internet-based Cognitive Behavioural Therapy (TA-iCBT) in Canada, MindBeacon's professional service is designed around the client – their health, their way. MindBeacon's services are accessible, available, affordable, and, most importantly, proven to be effective. MindBeacon is changing the therapy landscape by making professional care available to every Canadian, no matter when, where and how they choose to access it.
About the Family Health Forum
The College of Family Physicians of Canada (CFPC) is the leading professional organization, responsible for the standards of education, certification, and training of family physicians across Canada. CFPC advocates for the specialty of family medicine, family physicians and their patients. Our mission and vision are simple; advance family medicine to improve lives and the health of all people in Canada.