Press Release | MindBeacon Announces its commissioning of US Healthcare Industry Veterans to further accelerate its US Growth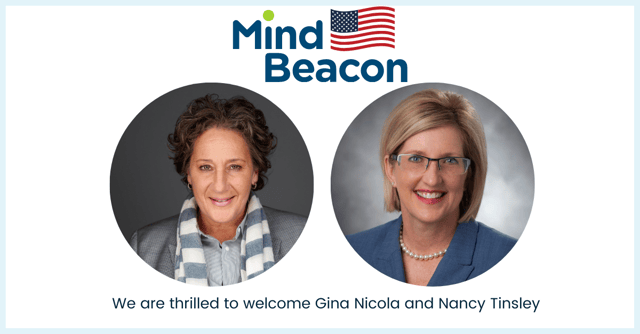 Toronto, November 11, 2021 – MindBeacon, a leading provider of digital mental and behavioral health therapy across the entire continuum of care, today announced the engagement of Gina Nicola and Nancy Tinsley, of GNE, to further accelerate its US growth on the back of its recent, Harmony Healthcare acquisition and November launch of its first US customer.
Both women are highly regarded within the industry in the US, each with an outstanding track record. Gina has successfully driven multi-million-dollar growth as both as an individual contributor and a leader during her time with Optum/UnitedHealthcare, Anthem BCBS and Virgin Health (now Virgin Pulse). Nancy Tinsley brings an additional 35 years of experience in the healthcare system and provider space having held senior positions within several nationally known hospital systems.
They and a team of business development professionals will serve as MindBeacon's US growth team, under Gina Nicola's direction, through a commissioned relationship with GNE, Inc and under the direction of MindBeacon's President and Chief Commercial Officer, Adam Kelly who added: "I'm excited to have the GNE team on board as we build momentum beyond our initial US footprint. Together we have put created a timely and aggressive go to market plan, and Gina and Nancy have just the right leadership and experience to execute on that with intention."
Gina Nicola, CEO of GNE, LLC went on to say "What really sets MindBeacon apart is they are driving and illuminating a mental fitness movement to extinguish mental health care stigma. MindBeacon delivers a full array of digital, self-guided, asynchronous, and live therapy services - however they uniquely distinguish themselves with their unified, comprehensive platform, quantifiable outcomes and personalization of care that is integrated with providers, healthcare systems, payers, and employers. This positions MindBeacon as a significant force in the US market."
About MindBeacon
MindBeacon provides a continuum of mental healthcare that includes self-guided psychoeducational and wellness content, Peer-to-Peer Support, Guided CBT Programs and Live Therapy Sessions, all offered virtually through their secure and private platform as one of the first commercially available, digitally-native platforms to offer therapist-assisted internet-based Cognitive Behavioural Therapy (TA-iCBT) in Canada, MindBeacon's professional service is designed around the client – their health, their way. MindBeacon's services are accessible, available, affordable, and, most importantly, proven to be effective. MindBeacon is changing the therapy landscape by making professional care available to every Canadian, no matter when, where and how they choose to access it.
About Gina Nicola Enterprises
Gina Nicola Enterprises (GNE) guides, transforms and invigorates people and companies by activating human potential through unconventional practices. We are a consultancy firm harnessing over 35 years of experience in Sales and Optimal Performance Coaching.