Press Release | BCCA Employee Benefit Trust (BCCA EBT) Enhances Access to MindBeacon's Digital Mental Health Therapy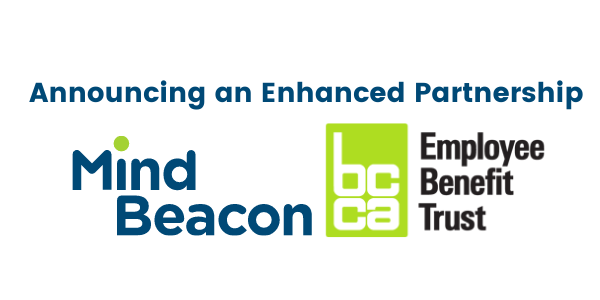 April 23, 2021 - In an effort to further support plan members and to ensure ease of access to mental health support as part of its COVID-19 Crisis Relief Plan (Phase 2), BCCA Employee Benefit Trust (BCCA EBT) has announced enhancements to its mental health benefits available through MindBeacon, Canada's leading digital mental health provider. Through the extended health plan, employees are now offered completely free access to the Therapist Guided Program, providing personalized therapy via a secure text-based platform to address a number of mental health concerns.
"We understand that feelings of stress and anxiety have increased during the pandemic, with approximately 60% of British Columbia residents feeling their mental state worsening," said Arthur Chung, CEO of BCCA EBT. "That's why we've enhanced the mental health benefits for plan members to support employees before symptoms worsen," Chung continued.
As MindBeacon continues to offer digital mental health therapy through its Therapist Guided Program (TGP) and Live Therapy sessions, this enhancement comes at a perfect time, allowing employees to access therapy from their personal devices, wherever they are and whenever they need to. There's no need to schedule an appointment for TGP therapy, which eliminates the stress of needing to book a scheduled appointment when agendas are packed and some may prefer to avoid talk therapy altogether. MindBeacon's TGP allows for complete flexibility as clients are guided through therapy programs using worksheets and valuable resources with a dedicated licensed therapist by their side. If employees prefer to speak to a therapist live, they can also book a Live Therapy session to address their mental health concerns by choosing a time that's best suited for them with a therapist of their choice, and claiming the service through the extended health plan.
"We're thrilled that BCCA EBT has chosen to offer MindBeacon's Therapist Guided Program free of charge to employees," said Dr. Lori Ann Blessing, Ph.D., C. Psych., Clinical, Health and Rehabilitation Psychologist / Chief Clinical Officer at MindBeacon. "This allows for greater access to supports by eliminating the need to pay out of pocket expenses. With this improved accessibility, we can treat a greater number of employees who are struggling with depression, stress, generalized anxiety, social anxiety, PTSD, chronic pain, insomnia, and so much more," Blessing concluded.
About The BCCA Employee Benefit Trust (EBT)
The BCCA Employee Benefit Trust (BCCA EBT) was established over 50 years ago to look after the health and wellbeing of employees in the construction industry. We have never wavered from our purpose and we remain committed to our values, mission, and vision throughout this pandemic. As a not-for-profit organization, employee health is at the forefront of all we do.

About MindBeacon
MindBeacon is developing a continuum of mental healthcare that includes self-guided psychoeducational and wellness content, Therapist Guided Programs and Live Therapy Sessions all offered virtually through their secure platform. As one of the first commercially available, digitally-native platforms to offer therapist-assisted internet-based Cognitive Behavioural Therapy in Canada, MindBeacon's professional service is designed around end users – their health, their way. Working with employers, insurance carriers and government ministries, MindBeacon's services are accessible, affordable and, most importantly, proven to be effective. MindBeacon is changing the therapy landscape by making professional care available to every Canadian, no matter when, where and how they choose to access it.
SOURCE MindBeacon Holdings Inc.
For further information:
(e): media@mindbeacon.com