Press Release | MindBeacon & The Best Workplaces™ for Mental Wellness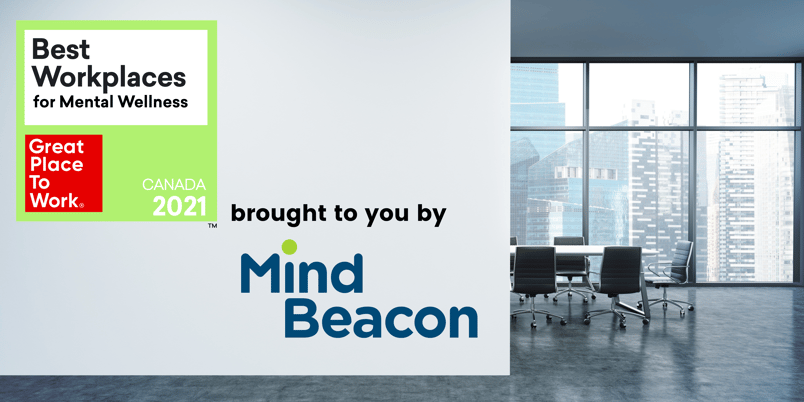 Toronto, ON - June 1, 2021 - MindBeacon Holdings Inc. (TSX: MBCN), leading provider of digital mental and behavioural health therapy, was announced today as the title sponsor for The Best Workplaces™ for Mental Wellness by Great Place to Work®.
"In the last year, employees have experienced feelings of loneliness, stress, anxiety, and trauma – some, for the first time in their lives, while others have had existing issues worsen. There are millions of dollars invested in mental health benefits, yet 2 of 3 Canadians with mental health issues do not get the support they need. We are here to change the status quo." says MindBeacon CEO Sam Duboc, "MindBeacon's mission is to revolutionize the availability, access and delivery of mental health care. We do that by working with employers across Canada to create transformational workplace mental health programs. Today, we are proud to be sponsoring this list. Recognizing companies that are putting employee mental health first. They too are changing the status quo, and we salute them."
The 120+ organizations being recognized today know that when it comes to mental health, having an open, positive environment can make a huge difference in employee well-being and happiness. They know that building a healthy company for their customers starts with building a healthy company from within.
Congratulations to each and every organization named as a 2021 Best Workplace for Mental Wellness!

View the list announcement video:
Check out the full list here.
"Policies that promote awareness and reduce stigma around mental health are critically important. As are inclusive, supportive, open, and flexible work environments where employees feel safe and protected if and when their mental health suffers. " says Jose Tolovi Neto, CEO of Great Place to Work. "For those organizations already doing a great job in this arena, thank you! And I encourage organizations nation-wide to think critically about what this pandemic has taught us about managing stress, pivoting quickly, supporting employees unconditionally, and protecting them as we all move forward together."
As part of the list announcement today, MindBeacon and Great Place To Work will be hosting a fireside chat on the topic of Workplace Mental Health on June 24th, 2021 at 12pm EST/9am PST. You can register for the free event here.
About MindBeacon
MindBeacon provides a continuum of mental healthcare that includes self-guided psychoeducational and wellness content, Peer-to-Peer Support, Direct Messaging Therapy, Therapist Guided Programs (iCBT) and Live Therapy Sessions all offered virtually through their secure and private platform. As one of the first commercially available, digitally-native platforms to offer therapist-assisted internet-based Cognitive Behavioural Therapy in Canada, MindBeacon's professional service is designed around end users – their health, their way. Working with employers, insurance carriers and government ministries, MindBeacon's services are accessible, available, affordable and, most importantly, proven to be effective. MindBeacon is changing the therapy landscape by making professional care available to every Canadian, no matter when, where and how they choose to access it.
About Great Place to Work®
Great Place to Work® is the global authority on high-trust, high-performance workplace cultures. Through proprietary assessment tools, advisory services, and certification programs, Great Place to Work® recognizes the world's Best Workplaces™ in a series of national lists including those published by The Globe & Mail (Canada) and Fortune magazine (USA). Great Place to Work provides the benchmarks, framework, and expertise needed to create, sustain, and recognize outstanding workplace cultures. Visit their website at www.greatplacetowork.ca.
SOURCE MindBeacon Holdings Inc.
For further information:
(e): media@mindbeacon.com