Cognitive Behavioral Therapy trailblazer, Dr. Aaron T. Beck passes away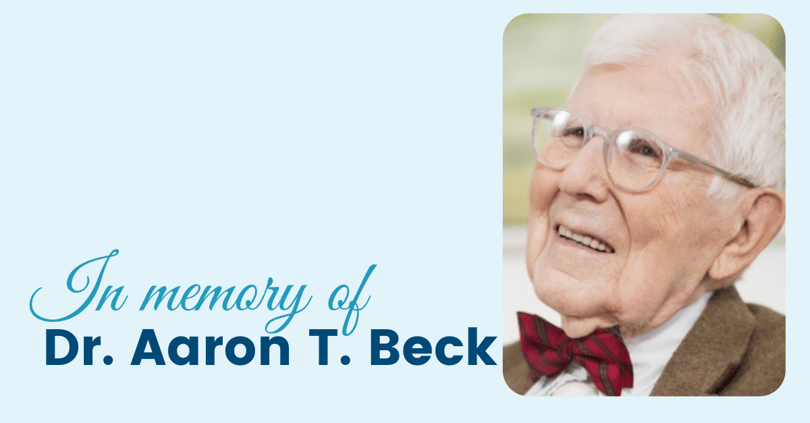 The MindBeacon community of clinicians and practitioners salutes the passing of educator, scientist and scholar, Dr. Aaron T Beck, at the age of 100. Widely regarded as the father of cognitive behavioral therapy (CBT), Aaron Beck was a tireless advocate for an evidence-based approach for mental health problems. His pioneering work in CBT shaped the field of psychology and therapy and continues to impact individuals seeking compassionate evidence-based care.
Dr. Beck authored or co-authored over 600 published works on CBT and mental health and received over 50 academic awards for his research and immense contributions to the field of mental health. In 1994, he co-founded the Beck Institute along with his daughter Dr. Judith Beck with a vision to provide training to CBT practitioners worldwide to enable CBT to evolve and thrive.
Speaking about Dr. Beck's passing, Dan Clark, Chief Executive Officer of MindBeacon said:
"As advocates and practitioners of CBT at MindBeacon, we salute Dr. Aaron Beck's legacy of helping individuals to live healthier, happier, and more meaningful lives. He was a trailblazer for evidence-based mental healthcare who revolutionized our understanding of mental health. His commitment to improving lives has transformed the way mental health conditions are treated.
He was not only a great scientist and clinician, but an even greater person. Authentic, gracious, humble and compassionate about making a difference in people lives. We remember him for his contributions to our science, but also by the countless numbers of lives he touched throughout his life.
At MindBeacon we are grateful to the father of our discipline and express our gratitude through our commitment to transform access to evidence-based CBT solutions using advanced technology to ensure that many more people can regain their mental health."


Image Source: Beck Institute