Press Release | MindBeacon solidifies digital mental health leadership with a revamp of Stronger Minds, launch of new Therapist Direct Messaging and a Peer-to-Peer Community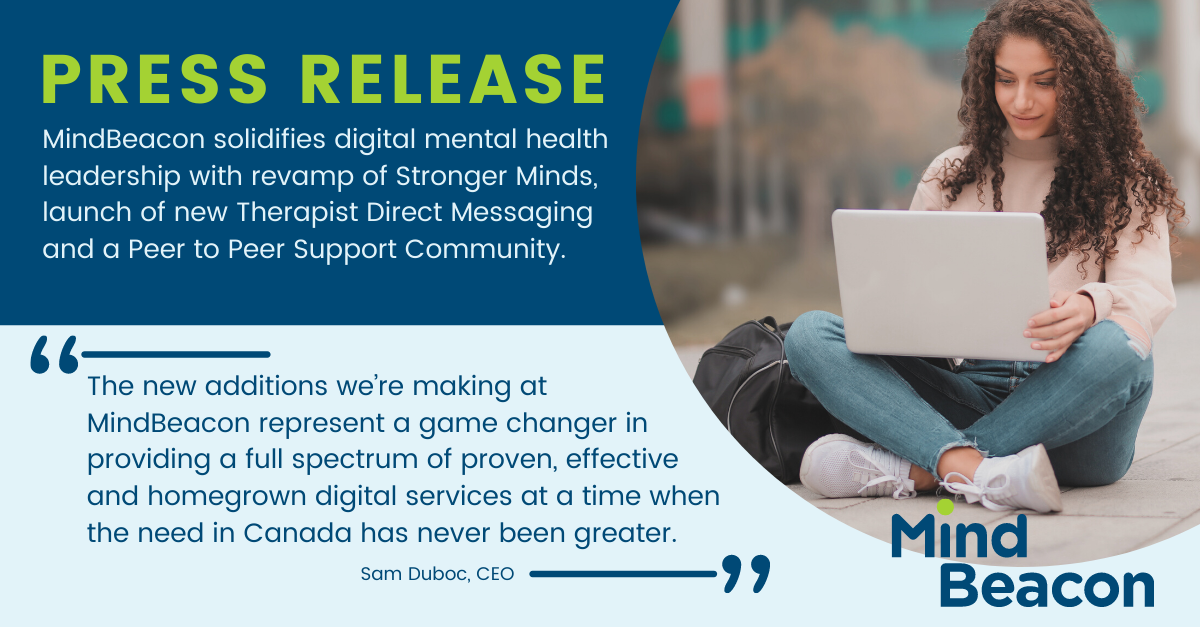 TORONTO, ON – March 17, 2021 - MindBeacon (TSX: MBCN), leading provider of digital mental and behavioural health therapy, today reinforced its commitment to helping Canadians access proven and effective mental health treatments by announcing the significant expansion of its continuum of care with the upcoming launches of new service offerings and freely available expert resources that will provide more robust treatment options as the global pandemic enters its second year.
"The past 12 months have been one of the most stressful periods in memory, leaving Canadians feeling more anxious about their mental health as they worry about the economy, their physical health, or what the future may hold," says Sam Duboc, Chair & CEO. "Our mission is to lower the barriers to mental health treatment. What sets us apart is our commitment to providing a continuum of mental health care, resources and support rooted in convenience, evidence and personal choice. The new additions we're making at MindBeacon represent a game changer in providing a full spectrum of proven, effective and homegrown digital services at a time when the need has never been greater. And we aren't stopping here. MindBeacon will continue to grow and evolve to meet the needs of Canadians now and in the future."
An enhanced Stronger Minds
Launched in April 2020, Stronger Minds was originally created to provide resources to support Canadians through heightened stresses related to COVID-19. Since its launch, the content has had over 250,000 views, tens of thousands of subscribers and has become a go-to for many people looking for mental health advice from a professional, credible source. Because of the immense success of Stronger Minds, MindBeacon has expanded the offering and now will host a deeper and more interactive suite of content and new resources to help readers navigate the sometimes overwhelming world of mental health support. Some of the changes to Stronger Minds will include:
Video Content.

A new "Let's Talk About Mental Health" video blog series will provide a way for people to share their personal stories and create a sense of community among those who may feel they are suffering alone

Ask a Therapist.

Stronger Minds will also feature a new Q&A section dedicated to addressing the most pressing issues among those who visit the site, allowing visitors to ask mental health professionals anonymous questions

Monthly Email Newsletter.

Those who subscribe will receive the latest resources and content, curated by MindBeacon's Clinical Director, Dr. Khush Amaria PhD, CPsych
The new Stronger Minds will be launched in April 2021, offered free of charge to all Canadians. More information is available at mindbeacon.com/strongerminds.
Introducing Therapist Direct Messaging
To further lower the barriers to mental health treatment and extend its commitment to digital innovation, MindBeacon is also launching Therapist Direct Messaging. The new service will provide Canadians with a safe, affordable and effective homegrown platform on which to freely discuss what's on their mind with a dedicated mental health professional on their own schedule.
"We all express ourselves differently and there is a growing number of Canadians who feel more comfortable communicating by keyboard" says Lori Ann Blessing, Chief Clinical Officer "With the launch of Therapist Direct Messaging, those who seek support will communicate by sending messages to their dedicated mental health professional. They can review old messages, track progress and reflect on previous insights from the secure, private MindBeacon platform"
The Launch of Online Peer-to Peer Community Powered By Togetherall
Soon, MindBeacon will also unveil another new offering through a partnership with Togetherall, the world's leader in online peer-to-peer mental health support. This innovative Canadian partnership will provide MindBeacon customers an anonymous peer-to-peer community where employees dealing with unmanageable levels of stress or anxiety can actively support one another, 24 hours a day, all year around. It will be moderated by licensed and registered mental health practitioners, who will be available to support with service navigation and offer other resources that may be helpful to community members. The peer-to-peer offering will be made available free of charge to all existing and new subscription customers of MindBeacon's Workplace Mental Health Program.
"Togetherall's evidence-based, anonymous online peer-to-peer approach has proven to engage individuals that, for a variety of reasons, have not traditionally reached out for support. Our safe community is often the first step for individuals looking to explore their own mental health concerns," says Matthew McEvoy, Togetherall's North American General Manager. "We are excited to partner with MindBeacon to broaden the services available to employees. Togetherall recognizes the need for multiple avenues of support to ensure all employees have a path to better mental health that meets their preferences and clinical need."
"Now with our significantly enhanced Stronger Minds self-serve mental health resources, a brand new Therapist Direct Messaging product and the addition of a free Peer-to-Peer Support Community, the MindBeacon Workplace Mental Health Program gives employers across Canada the most comprehensive set of mental health supports in the country to support their people," says Adam Kelly, Chief Commercial Officer. "It's been a long year under the pandemic and employers have already seen the toll it has taken on their employees as they continue to access MindBeacon services at record numbers. We know the year ahead is going to bring a new set of challenges for the workforce and MindBeacon is enhancing our program significantly to meet that need."
About Togetherall
Established in London, UK in 2007, Togetherall, is a leading online mental health service that provides millions of people throughout the UK, New Zealand, Canada and the US access to community and professional support 24 hours a day, 365 days a year. The service is clinically proven to help those who are struggling with stress, isolation, anxiety, depression and other common mental health issues. Togetherall partners with organizations in the corporate, education, health and non-profit sectors. To learn more, visit www.togetherall.com
About MindBeacon
MindBeacon is developing a continuum of mental healthcare that includes self-guided psychoeducational and wellness content, Therapist Guided Programs and Live Therapy Sessions all offered virtually through their secure platform. As one of the first commercially available, digitally-native platforms to offer therapist-assisted internet-based Cognitive Behavioural Therapy in Canada, MindBeacon's professional service is designed around end users – their health, their way. Working with employers, insurance carriers and government ministries, MindBeacon's services are accessible, affordable and, most importantly, proven to be effective. MindBeacon is changing the therapy landscape by making professional care available to every Canadian, no matter when, where and how they choose to access it.
For further information:
(e): media@mindbeacon.com