Press Release | MindBeacon tea-ms up with Genuine Tea to get Canadians to take some me-time over tea-time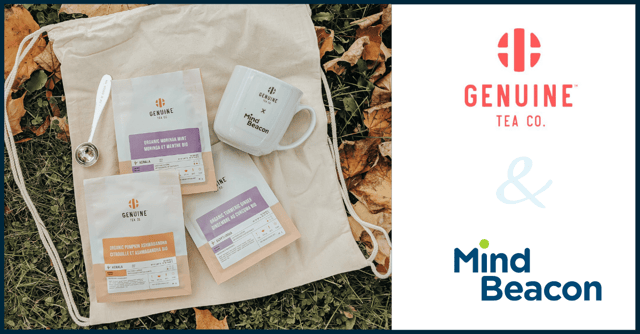 Toronto, November 8, 2020 – Mental health provider, MindBeacon and artisan tea retailer, Genuine Tea have joined forces to promote the benefits of practicing conscious 'me-time' over a cup of tea. Whether you call it a cuppa or a brew, taking time to prepare and enjoy a cup of tea is self-care. By slowing down and setting aside this time, you allow yourself the opportunity to take a break and be kind to your mind.

The partnership also aims to encourage Canadians to join the conversation on self-care and open up about mental health and how 'filling your cup' by taking time each day for self-care can make a difference. The campaign will kick off with a giveaway on social media of a wellness bundle with lots of further exciting initiatives planned down the tracks.
"MindBeacon is always seeking creative and innovative ways to reach and engage with individuals." said Melissa Alvares, VP of Marketing at MindBeacon "Genuine Tea's commitment to raising awareness of mental health with their customers is standout and impressive and we both share that same mission of breaking down the stigma which its why it's great to be embarking on this partnership."

Science also continues to show how the ingredients in tea whether it's green, yellow, black, or oolong, can provide mental health benefits from lifting mood, improving focus, and reducing levels of the stress hormone cortisol. Recent studies suggest that the amino acid L-theanine found in the tea plant alters the attention networks in the brain and has demonstrable effects on brain waves, leading to a feeling of increased relaxation without causing drowsiness.

"Since Genuine Tea began in 2015, we have always strived to promote awareness of the inextricable link between tea and mental wellbeing." said David O'Connor, Co-founder of Genuine Tea. "We are proud to partner with MindBeacon, a recognized force in evidence-based mental health care to get more people to embed a daily 'me-time' over 'tea-time' ritual as an antidote to everyday stress."

Genuine Tea has been donating 1% of all sales to the Canadian Mental Health Association (CMHA) since it launched. The CMHA provides advocacy and resources that help to prevent mental health problems and illnesses, support recovery and resilience, and enable all Canadians to flourish and thrive.
About MindBeacon
MindBeacon provides a continuum of mental healthcare that includes self-guided psychoeducational and wellness content, Peer-to-Peer Support, Direct Messaging, Guided CBT Programs and Live Therapy Sessions, all offered virtually through their secure and private platform as one of the first commercially available, digitally-native platforms to offer therapist-assisted internet-based Cognitive Behavioural Therapy (TA-iCBT) in Canada, MindBeacon's professional service is designed around the client – their health, their way. MindBeacon's services are accessible, available, affordable, and, most importantly, proven to be effective. MindBeacon is changing the therapy landscape by making professional care available to every Canadian, no matter when, where and how they choose to access it.
About Genuine Tea
Genuine Tea was founded by Sarah Wilcox and Dave O'Connor after living in Taiwan for five years and studying Mandarin, Chinese - they also received scholarships to do their MBAs in Taiwan and decided to focus on the tea industry. Taiwan is widely regarded as having some of the best teas in the world and is also centrally located within South East Asia, making it the perfect starting off point to travel to tea farms throughout Asia. Sarah and Dave knew that the tea industry was in need of a farm-to-cup approach and more ethical sourcing in general. At the time, loose leaf tea was becoming more popular in North America, but it was mostly full of artificial colours and flavours and there was no mention of region, harvest date or even tea type. They returned to Canada in 2015 and started Genuine Tea. They began selling teas at farmers markets across Ontario and soon started partnership with coffee shops and restaurants. They won several awards for their teas and were the first company in Toronto to source Authentic Japanese Ceremonial Grade Matcha from the Kato Family in Uji, Kyoto. In 2018, they went on Dragon's Den and formed a partnership with Arlene Dickinson. Genuine Tea is a Leader in the Third Wave Tea movement in Canada and offers everything from Loose Leaf Tea to Plant-Based Tea Bags, Tea Lattes and Hand-Crafted Sparkling Iced Tea. Their products can be enjoying in hundreds of coffee shops, grocery stores such as Loblaws and online at GenuineTea.ca