BEACON therapy for PTSD: new study confirms it is as effective as current first-line treatments
Often, we think of posttraumatic stress disorder (PTSD) as a condition mainly faced by members of the military or first responders. However, while people in those professions are at a higher risk, PTSD is known to affect other occupations such as construction or retail banking. And, as trauma can occur outside of work, PTSD can affect anyone. In fact, 2.5 million Canadians will suffer from PTSD at some point in their lives.
PTSD is caused by experiencing, or witnessing, a traumatic event. The type of trauma can vary, but most commonly would involve violence, having one's life in danger, sexual assault, or even learning that a trauma has occurred to a loved one. Not everyone experiencing trauma will develop PTSD. But, those who do can suffer debilitating symptoms, reliving the painful event for months, or even years, after it happened.

PTSD is treatable

–

but there are many barriers to accessing care

Studies show that both medications and psychotherapy are effective at treating PTSD. Some of the strongest evidence is in favour of trauma-focused Cognitive Behavioural Therapy (CBT), which helps shift a person's thoughts, beliefs and behaviours around a traumatic event. However, many barriers can block a patient's access to care, including cost, stigma, time constraints and limited availability of qualified therapists. There is a need for effective, accessible treatments to reach more Canadians living with PTSD. With this in mind, the BEACON clinical team analysed results from our trauma-focused therapist-assisted internet-delivered CBT (TF-TAiCBT) – evidence-based therapy delivered to patients securely online with the ongoing support of a BEACON therapist.

70% with PTSD significantly benefited from BEACON treatment
Already established as a first-line treatment for depression and anxiety disorders, TAiCBT has also shown success in PTSD. However, more real-world evidence was needed to confirm its benefit. To do this, data from 122 people who had an IAPT score of 38 or more (which means a person is extremely likely to have PTSD) were analyzed. With some in the sample completing as little as two weeks of treatment, 70% of people significantly responded to treatment – a 10-point or larger drop in PCL-5 scores (a standard measure of PTSD symptoms). Plus, nearly the same number of people (64%) no longer met the criteria for PTSD by the study's end. With these results, we're pleased to confirm that therapy through BEACON for PTSD is as effective as other first-line treatments, including medications and face-to-face CBT.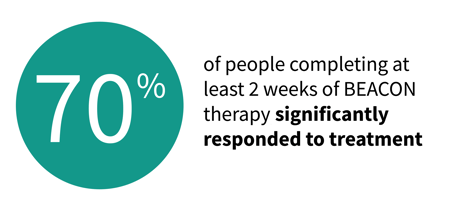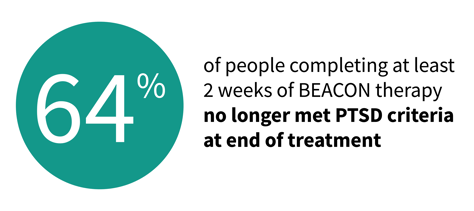 With more Canadians facing stress and enduring traumatic life events, PTSD remains a serious mental health condition in need of effective treatments. We are confident in stating that BEACON is one of those – that can reach and benefit many more people in need of help.



Interested in seeing detailed results? Request our analysis paper.
Related articles: