BEACON digital therapy now provides mental health support customized to needs of First Responders and Frontline Workers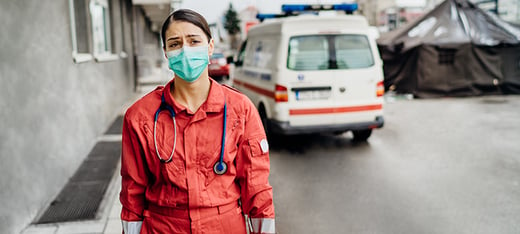 As COVID-19 constrains most of us to sheltering in place, there have been many dedicated people who continue returning to the front lines, day after day. The challenges that our frontline workers face every day are numerous and constantly evolving. Today, MindBeacon announces the launch of enhancements to its BEACON digital therapy service to customize mental healthcare specifically for frontline workers.
A policy brief issued by the UN on May 14 (COVID-19 and the Need for Action on Mental Health) highlights First Responders and Frontline Workers, particularly workers in health and long-term care, as a population at heightened risk of mental health issues. The brief also cites a study sponsored by the Canadian Public Health Association which reports that 47% of health-care workers have a need for psychological support.


Tailored for the Stressors Impacting Frontline Workers
As the leading Canadian provider of digital mental health therapy, MindBeacon wholeheartedly stands behind our frontline workers. We are in a unique position to offer personalized and easy-to-access mental health support to those who are taking care of our communities through the pandemic crisis.
MindBeacon is currently involved in the care of many first responder and frontline worker groups, and appreciates the immense challenges these people face through COVID-19. They're concerned about PPE supply; they're constantly on-edge at work, needing to be hypervigilant about infection control while making difficult decisions regarding the lives of those in their community; they are balancing exhausting shifts and demands at home; and they are worried they'll get sick – or cause family members to get sick. To many, this level of risk is new – the danger is real and the stress can be unbearable.
Through BEACON digital therapy, frontline workers access treatment for mental health concerns that include depression, anxiety, post-traumatic stress, and insomnia. Therapy enhancements include supplemental readings and exercises focused on acceptance, addressing fear, self-compassion, relaxation, and control – all within the context of stressors that are specific to their working conditions and impact across their lives overall. Cognitive behavioural therapy through BEACON is guided one-to-one by a registered mental health professional, trained to work with frontline workers to address their specific concerns with empathy and clarity.
"Our Canadian frontline heroes have shown themselves to be remarkably adaptive and resilient," says Dr. Peter Farvolden, clinical psychologist and Chief Science Officer at MindBeacon. "We're inspired by their commitment and courage in extremely demanding situations. And we're here to provide support if they're feeling overwhelmed or looking for better ways to cope with an extremely stressful situation."
The new therapy customizations are appropriate for frontline workers across multiple work contexts including first responders groups such as police and EMS, frontline health environments such as hospitals, long-term care, community health and homecare, corrections, personal support workers, social workers and many others.
Interested in providing BEACON to your frontline workforce?
Reach out to start a conversation.
Related articles: